THE FINNISH BISTRO STORY
The Finnish Bistro is a special gathering place set in the charming St. Anthony Park neighborhood of St. Paul. We specialize in authentic European cuisine. Don't be surprised, though, when the special weekly menu features a culinary trip out of the boundaries of Europe. You never know where your taste buds might travel!
In 2013, the Finnish Bistro welcomed Sandra Weise as it's new sole owner. Sandra is a familiar face at the Finnish Bistro, as a former vested manager,
long-time friend and associate of Soile Anderson and Deco Catering
(founder and former owner of the Finnish Bistro.)
Sandra is a life-long resident of the Twin Cities with a degree in Community Ethics. Her background is  in social work coaching homeless and at-risk youth as well as professional fundraising for over a dozen years.  Her love for fantastic food and her passion for community drew her back to the Finnish Bistro because it delivers both great food and great neighbors.
Sandra has rejoined this wonderful community and brought back many of the original favorites to the menu.
---
The New Chapter 2013
Sandra Weise was born in the 70's and raised in NE Minneapolis just a few miles from the Bistro. She went to Spring Lake Park High School and received a bachelor's degree in Community Ethics from Metropolitan State University. Prior to purchasing The Finnish Bistro in 2013, Sandra was in social work for 15 years providing direct service for homeless and at risk youth. She worked for Project Foundation South, Avenues for Youth, Lutheran Social Services for eight years then The Bridge for Runaway Youth for four years. It was then divine intervention supervened and she was laid off.
In 2010, Sandra's longtime family friend and now mentor Soile Anderson had an opening for a manager here at The Finnish Bistro. A pure fluke led to her accept the "temporary manager position" until Soile found a more permanent fit. Sandra loved it right away!
Awesome neighbors, great businesses, and the best staff kept her managing The Finnish Bistro for nearly two years before returning to her social work roots then ending her career in public service and professional fundraising at United Way in 2013. At that time Soile was ready to sell the Finnish Bistro and Sandra was excited to meet the challenge!
A true philanthropist by heart and working closely with amazing young people for so many years Sandra saw the very real needs in our community up close. It sparked a lifelong passion to volunteer and raise funds for all areas of our community. She continues supporting various humanitarian efforts locally and internationally.
The extensive renovation in 2016-17 was not easy but well worth it. The Finnish Bistro added live music, craft beer & wine, a retail section, a full coffee bar with reliable upgraded WiFi.
In Spring of 2017, catering will be added to the offerings here at the Bistro! Sandra's constant companion is her beloved four pounds of fierce Foxy Mama (a four pound long hair Chihuahua) – The Real Boss.
---
History of the Bistro
The Finnish Bistro was established in 2004 and has always specialized in Finnish and European specialties as well as some American favorites. The torch was passed on from Soile Anderson to long time family friend, Sandra Weise in 2013. Since moving to the United States from Finland more than 30 years ago, Soile Anderson combined her love of cooking and artistic flair and started Deco Catering, now one of the premier catering companies in the Twin City area. Soile is the former owner and founder of Taste of Scandinavia Bakery and Café. She retained the St. Anthony Park restaurant, the site of the original Taste of Scandinavia, because the people and neighborhood are so unique and special.
It was renamed the Finnish Bistro in 2004 and continues the tradition of good, healthy options blended with foods from Europe and a down home "flair for flavor" as well as from all over the world. Sandra Weise is happy to continue the traditional favorites! Other memorable moments included the opportunity in 2014 to serve the President of the United States as part of the Deco Catering team.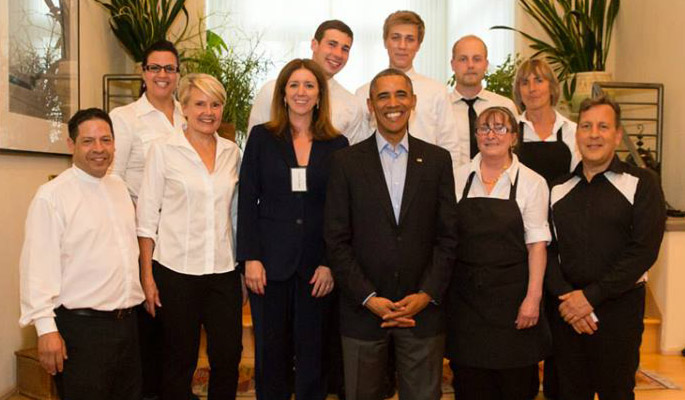 Serving President Barack Obama. "One of the best days of my life! Such an honor ."– Sandra Weise